We have been delighted to receive so many letters of thanks from couples who have chosen Art in Bloom for their wedding florals.
Here are a few:
We can't thank you enough for making our big day so special. This group of vendors was absolutely top notch- we couldn't have asked for anything more. Not only were you all so professional, you were all timely, detail-oriented, and demonstrated your expertise. I just don't have the words to describe how perfect it was for us, our families and our friends.

Elisa Gipe, Bride
Married at West Shore Cafe
April 27, 2019
Hi Hattie,
Thank you so much for the beautiful flowers you created for our daughter's wedding! It was so fun to work with you! You were able to take my ideas and a few photos and turn it them into reality. No small feat considering we were communicating cross-country via email which had me a little worried. But I shouldn't have worried; your creations were just stunning. The bouquets and centerpieces received many, many compliments at the wedding.
The best part was that as the Mom of the Bride, given the task to order the flowers, I was able to surprise and delight our daughter with the most gorgeous wedding flowers! Her bridesmaids were also delighted with their beautiful bouquets because the flowers matched their dresses perfectly!
I thank you from the bottom of my heart for helping to make our daughter's day so special. Your skill at combining flowers, listening to your customers, and turning a few ideas into exquisite bouquets and arrangements was truly beyond my expectations.
Linda, Mom of the Bride
September 15, 2018
Hi Hattie,

I just wanted to thank you for the amazing work you did for our wedding this past Saturday! The flowers were gorgeous and surpassed my expectations. You did everything perfectly and made it look better than I could have ever imagined. Thank you for taking my ideas and making them a reality. Everyone was still taking about how breathtaking the flowers and decorations were the next morning. And I even brought my bouquet on the airplane because I could not bare to leave it, it was so beautiful! You executed every detail perfectly!! It was such a pleasure working with you.
All our best and Many, many thanks!
Alli & Chris
October 27, 2018
Hi Hattie,

Thank you again for the beautiful flowers, on our wedding day! You got my vision so well, and made my wedding a fairy tale dream come true!! We just got our pictures back and the flowers look stunning. I wanted to share in case you would like to use them 🙂
Thank you!!!!!
Heather & Chris
May 12, 2018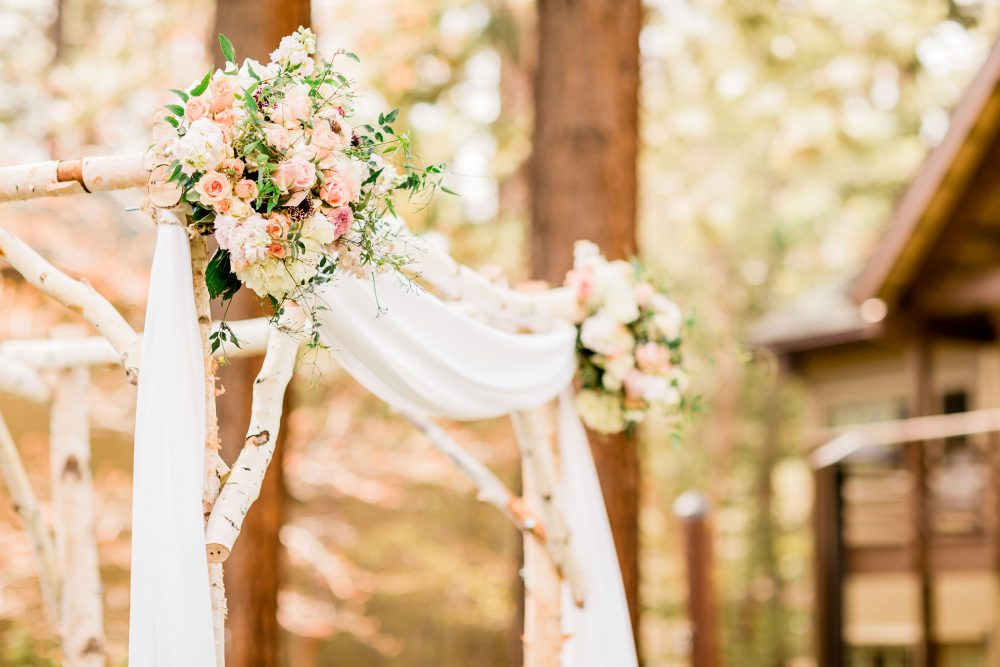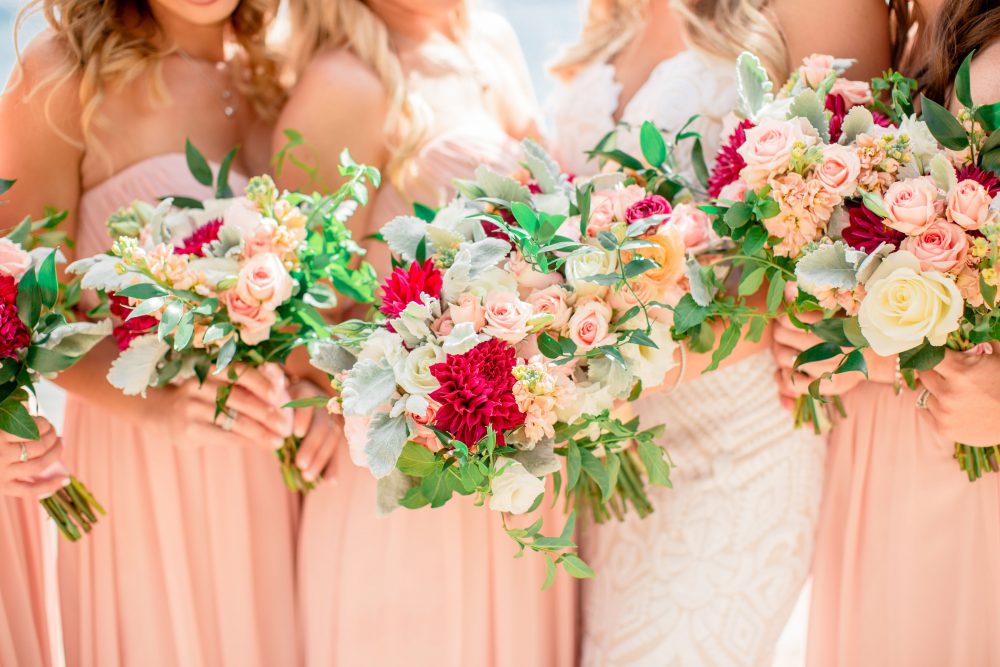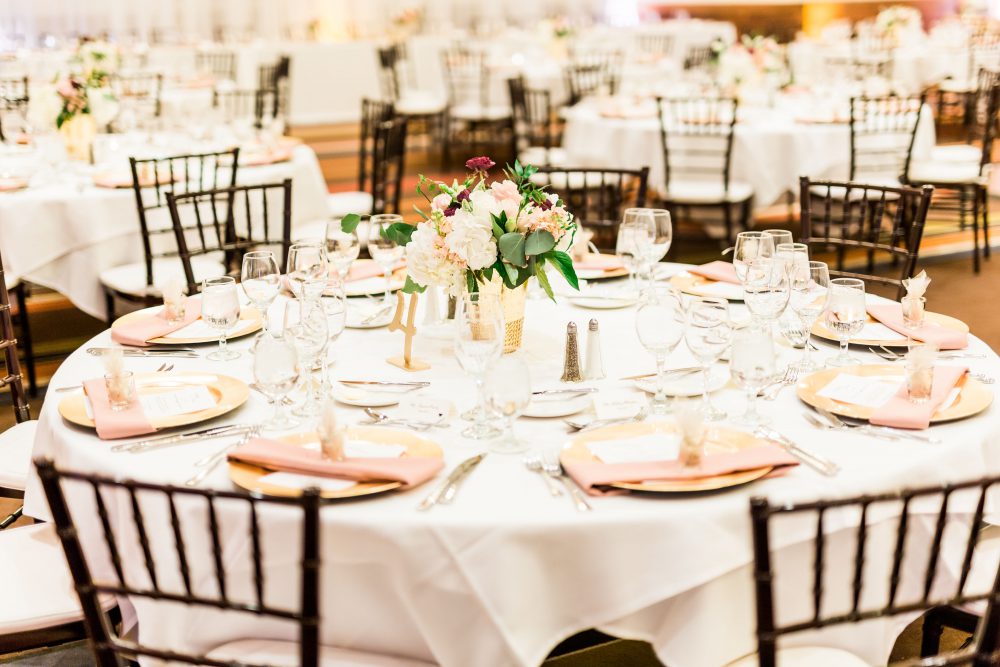 Hi Hattie,

Matt and I just got back from our honeymoon, and you were the first person I wanted to reach out to. I can not get over how perfect our flowers turned out. I remember the moment I was getting my makeup done and your team walked in with my bouquet–it truly blew me away. It was everything I pictured and more. The blue thistle was my absolute favorite part.
Matt referred to my bouquet as "friggin' savage!" when he saw it (which is a compliment coming from him). It was so heavy and huge and wild–it made me feel like a total ethereal warrior goddess walking around with it–like some sort of magical whimsical weapon. Ha. I didn't want to put it down all night.
Gillian & Matt
Married at the Hyatt Regency Lake Tahoe
August 8, 2015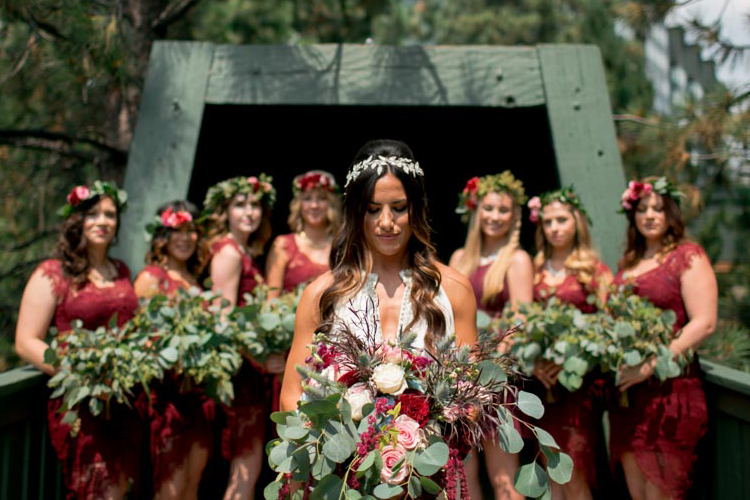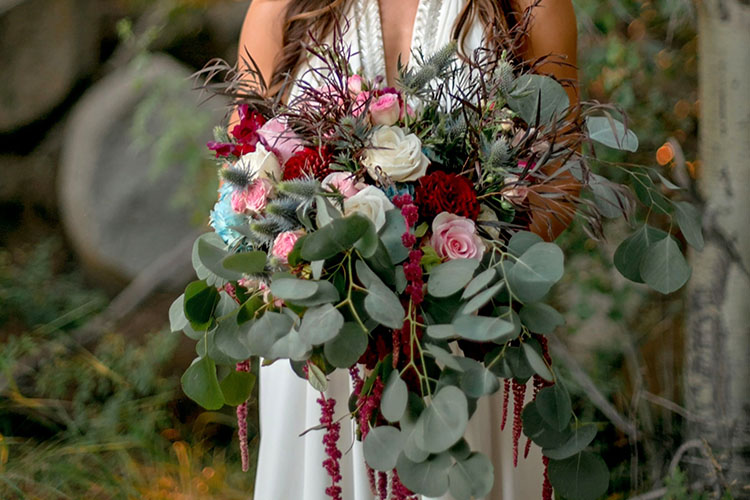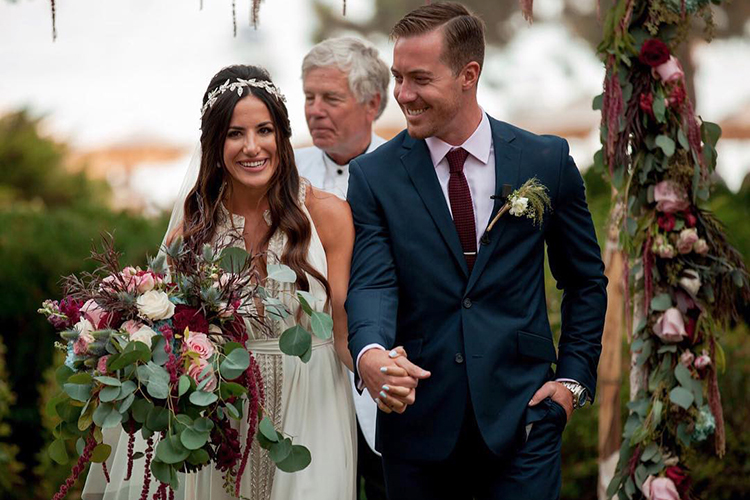 Hi Hattie,

How are you? I apologize for the delay in sending you this thank you note!
Your artistry literally took my breath away! You are extremely patient and talented beyond words. I wasn't sure of exactly what I wanted except for my colors. You called it "rustic elegance" which is exactly what you delivered. You took my broken unclear thoughts and delivered amazing gorgeous flowers that exceeded my expectations! Which is still an understatement! All of the mom's LOVED their corsages. My guests are still talking about all your amazing arrangements!
I have to tell you I took two top table arrangements home, the bouquets and some of the pine cones. Other guests took some of the orchards home which are still alive!! Steve and I were talking about the incredible floral designs when I turned around I realized you used those mokara orchids! I just started to cry! They are in water and still look beautiful! My bouquet lasted for two weeks after the wedding!
Hattie, again thank you for making my wedding gorgeous! You are such a joy to work with. I appreciated your patience as I changed my vision and more importantly I appreciated your excitement and ideas. I just wish I could do it again so I could have the opportunity to work with you!
We just received the pictures from Gina and are blown away again by your work. The pine cones were perfect! The cake, outdoor tables were so beautiful! I could go on forever telling you every detail I enjoyed about your creativity and artful eye! Just know I will forever enjoy the memories of working with you and the amazing florals at my wedding!!

Kristina Salazar
Married at The Ritz Carlton
October 15, 2011
Hi Hattie,

I have been meaning to e-mail you and let you know how overwhelmingly pleased I was with what you created for our wedding! The flowers were beyond my expectations and they were more beautiful than anything I could have asked for!! You have such a beautiful and creative vision; you are truly an artist with Picasso ability!! Again, thank you so much!! I would recommend you to anyone!
Thank you for making our day so special!
Sincerely,
Chelsea & Steven Roth
Married at The Ritz-Carlton
October 8, 2011
Dear Hattie

I have been going to write every day since we got home from Megan and Justin's wedding but I have been so emotional I just couldn't. There are no words to thank you for what you did for us. You have an amazing gift and talent ands we feel so blessed to have found you. I just can't imagine what Megan's wedding would have been without you. You listened to everything she said and made it reality. You took an ordinary room and turned it into an elegant, dreamscape full of beauty and light. Your staff was wonderful as we watched them follow your vision. As the evening got darker the room became a twinkling, romantic setting that met all of our hopes. I never once doubted that you would come through with everything you planned but it was so far beyond what we hoped for. The flowers were beautiful. I have never heard so many, consistent remarks- elegant, beautiful, romantic, classy-just on and on by everyone we talked to. More than one person commented on how each and every flower was so perfect, so white, so uniform. Your attention to detail was not missed by any of us. The archway outdoors was perfect and your choice of hops, crystals, flowers and ribbon was incredible. When Megan saw her bouquet all she could say was that it was exactly what she wanted and she cried. The table centerpieces were so beautiful and made the room come alive. The headtable was glowing and so romantic. The flowers on the cake made it perfect. I just think about it all and the tears flow and we owe so much of the success of the entire wedding to you.
It was uniquely Megan and Justin's wedding because you made it that way. You are so patient, so gracious, so calm and you helped us through every decision but it was YOU that made it all so perfect. There is no money or words that can completely express what I feel for you and your incredible talent and I only hope I can offer you some reviews…
I know you love your job and it shows from the first meeting until the final project but I can only find the word BLESSED to tell you how lucky we feel that we got to experience your fabulous work. I can not even imagine going through all we did without you. Thank you from the bottom of our hearts.
Torri and Megan
Genoa Lakes
September 10, 2011
Hattie

What can I say- the wedding was even more beautiful than we imagined. We received countless comments on the escort cards screen, the bridal bouquets, and the reception decorations! I can't wait to see the photos from our photographers and we will definitely send you pictures as well. Thank you for everything you did and I'm sorry I didn't get a chance to talk to you more. I was so excited to see you though! Brian and I are so thankful that we found you and hope we get to see you again sometime.
Love,
Jen
Married at The Ritz-Carlton
July 23, 2011
Hattie

I just wanted to thank you from the bottom of my heart for doing my wedding flowers. I am not a big flower person but what you created was simply magical. As the flowers came in, I was getting my hair done and when I saw them they immediately brought tears to my eyes. The bouquets were so beautiful and unique. Unlike anything I had ever seen before and exactly what I didn't know I wanted; my husband loved the colors and combinations and it tied our wedding together perfectly. Thank you for being so accommodating to our last minute boutonniere additions-all 15 of them!!

Corinne
Married at Zephyr Cove
July 15, 2011
Hi Hattie,

I wanted to let you know what a wonderful job you did for my wedding. You took my vision and made it real. Everyone commented on how beautiful the flowers were. I still have my bouquet, which I will save forever. Thank you for helping to make our wedding day one of the most beautiful and memorable day of our life.

Cassie
Married at Genoa Lakes
February 19, 2011
Mrs. Hattie Reed, Art in Full Bloom

Good morning!

Hattie, I can't thank you enough for the work you do and in all the ways you conduct yourself and your business. The florals for the Martin Armstrong wedding on Saturday, August 7th at the Stanford Alpine Chalet were just gorgeous. With unique considerations being an underlying driving force that might have provided a different outcome, you consistently rose to the occasion and delivered a product that surpassed expectations and you did so in an incomparably professional manner} bringing a noticeable contribution to the team effort. I can't thank you enough for your commitment, patience, clarity… and sense of humor and passion for what you do.

As our professional and personal relationships have taken flight, I look forward to many, many more opportunities to work, play and laugh together.

Yours in Celebration!
Scott Corridan, Scott Corridan Design
12 August 2010
Hattie,

We were just able to view the wedding photos online from 9/12 wedding on Lake. The flowers were absolutely stunning…the centerpieces, the flowers on the boat bow gorgeous-everything! Thanks for the expertise and artistry
Kind Regards
Karen & Ron Schwary, (Bride and Groom)
Paradise Boat, Lake Tahoe
September 2009
Dearest Hattie,

Where do I begin! Thank you so very much for all your hard work and sheer talent. It was just beautiful and perfect. You watch these bridal shows on TV (the upscale ones) and Hattie you have them beat! When we opened the doors it was "magical". I have never seen a reception room as beautiful as that in my life!! Thank you again!!
Love,
Terry (Mother of Bride) Brennan's
Genoa Lakes Golf Course
September 2009
Hattie

at Art in Bloom was SOOOOO much more than a florist! She was an amazing help for anything we needed. We met with her a few times and really understood what we wanted and took that idea and ran with it! She was so creative and really didn't overdo anything…. Just what I wanted. Instead of knowing what I wanted, I reall just knew what I didn't want, but that was so easy for Hattie. She made the flowers and colors perfect!!
Thank you Hattie for adding the perfect color and gorgeous flowers to my special day!
Malaika & Christian (Bride and Groom)
Tannenbaum, Reno
August 2009
Hattie,

We want to thank you so much for such an amazing job that you did on our beautiful flowers for our wedding. The colors and arrangements turned out awesome and were exactly what we imagined and wanted! We have received a ton of compliments on the colors and flowers and how beautiful they were. You have such a great talent. Thank you for being so patient and really listening to what we wanted. You helped make our day unforgettable!
Sincerely,
Julie & Randy Watts (Bride and Groom)
Valhalla, Lake Tahoe
August 2009
Dear Hattie,

Thank you so much for the beautiful job you did with the flowers for our wedding! They were stunningly beautiful and we were so pleased with how everything turned out! It was such a pleasure working with you and you made the whole "flower" part of our wedding very easy and painless!! Best wishes in the future and hopefully we will cross paths again someday!
Grace & Dave (Bride and Groom)
FitzHaven Estate, Lake Tahoe
Austust 2009
Dear Hattie Reed and Art in Bloom,

We wanted to take the time to officially thank you for all of your gorgeous work on Hilary and Eddie's July 11th wedding. You were an absolute joy to work with-so sweet, so professional, so helpful. And your flower arrangements were absolutely perfect. We especially loved the two tall arrangements in glass vases near the front of the ceremony! Thank you so much again.
Sincerely,
Congressman Dean Heller, Lynne Heller, and Hilary and Eddie Ableser
Thunderbird Lodge, Lake Tahoe
July 2009
Dear Hattie,

I just wanted to express to you how pleasantly pleased and excited I was to have such beautiful flower arrangements at our wedding! Everything was absolutely outstanding…from the bouquets, to the AWESOME church arrangements and centerpieces at the reception. Honestly, they were more exquisite than I had imagined and they are absolutely eye-catching in the photographs. Many of our family members and friends have also praised your work and found the flowers stunning, as well! Thank you for helping to create such a beautiful and memorable day!
Warm Regards,

Katie (Carlson) Unruh(Bride)
Corpus Christy, Orchard House
June 2009
Dear Hattie,

Just a note of thanks for the beautiful job you did with the wedding(s)! (Double wedding) The church was absolutely beautiful as well as all the bouquets, centerpieces, etc. I'm glad we got to work with you-the girls and I absolutely adored you. Thanks again for all the time you put in and for making June 20th a beautiful day!

Geri Carlson (& John) (Mother of 2 Brides)
Corpus Christy Catholic Church, Orchard House, Genoa
June 2009
Dear Hattie,

Thank you, thank you, thank you for the beautiful work you did at our wedding. Everything turned out absolutely breath taking. My bouquet was the most beautiful bouquet there has ever been and the centerpieces were gorgeous and creative! I just can't thank you enough.
Sincerely
Kelly & Tom Brooks (Bride and Groom)
Orchard House, Genoa
June 2009
Dear Hattie,

Congratulations!
I was pleased to hear that you and Felicia Gantar received first place at Northern Nevada's table top designer of the year competition.
Your work is very important to keep Nevada's economy moving forward, and I wish you much continued success. Sincerely,

Harry Reid United States Senator
NACE Competition
Reno, 2008
Hattie,

Thank you so much for the beautiful flowers you provided for our wedding. Everything turned out perfect and we really appreciate all the hard work you put in to making our wedding such a huge, amazing success.
Thanks again. Love,
Ashley & Matt Brown (Bride and Groom)
Edgewood, Lake Tahoe
September 2008